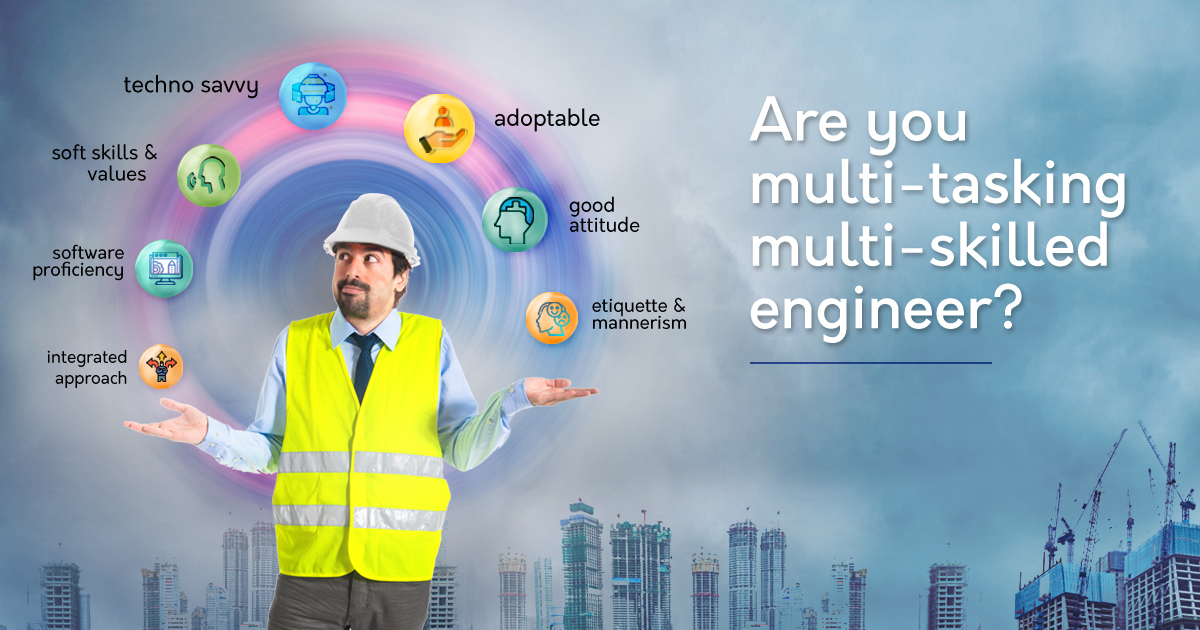 Demands of Construction Industry from Civil Engineers in 2020
The scenario of globalised construction industry has become more challenging in last few years. It demands multi-tasking & multi-skilled construction professionals equipped with advance knowledge and sophisticated skills. It is high time to break the shell and develop a broader outlook of looking at construction projects. Only such civil engineers can deserve good jobs of handsome packages, faster increments and promotions in today's competitive world.

Integrated approach towards project success- This is the time not to restrict yourselves to a specific job role and use traditional outdated methods. Industry needs you to adopt an integrated approach for making a project successful. With the advancement and industry 4.0 revolution, most of the tasks are interrelated across various functional areas such as civil execution, planning, estimation, contracting, billing, procurement, MEP works etc. You can't work in isolation now and there is no choice than to adopt teamwork for successful on time deliveries.

Software Proficiency - Gone are those days where you just cling on to the use of scale, drawing sheet and graph papers. Industry would expect software proficiency for speed and precision. Most common and basic being AutoCad, Excel, MS Project, Revit and some job specific tools like Primavera, BIM, Staad Pro, Tekla etc.

Soft Skills & Value - Industry would underrate your performance if you fail to effectively present the work. To demonstrate your technical competencies, you need to work upon communication skills, presentation skills and interpersonal skills. Listening, comprehending, cognitive, situational analysis, decision making, negotiation etc. are some other soft skills if you are good at, can help you to get better appraisals. There are some values you shall inculcate like patience, discipline, loyalty.

Techno Savvy - For fast communication and problem resolving, you need to be good at handling smartphone apps and be techno savvy.

Adoptability / Flexibility - Flexible people are often demanding in the construction world. This flexibility would relate to job location, job profile, project, learning new things and overall approach etc.

Attitude, Etiquette & Mannerism : Civil Engineers with the right attitude are difficult to get now a days. Humble, honest, sincere, dedicated work force only can help to bring the best out of difficult situations. Having good etiquettes and manner is like icing on cake.

This scenario would certainly pose a challenge to veterans and budding professionals. And it is a good time to upgrade your skills and change the way you look at things for excellence, getting 'good jobs', appreciations in today's construction industry.
-Swanand Purandare
Faculty & Onsite training coordinator
PGDACM (NICMAR), BE Civil, CQS (RICS)